"what would happen if society were able to modify its current routines and acquire healthy habits?"
"what would happen if society were able to modify its current routines and acquire healthy habits?"
Health promotion.
A declaration of intentions.
After a lifetime devoted to medicine and research, Dr. Valentín Fuster de Carulla currently combines roles as General Director of the Centro Nacional de Investigaciones Cardiovasculares Carlos III (CNIC) in Madrid and Director of the Cardiovascular Institute and Physician-in-Chief at the Mount Sinai Medical Center, New York and President of SHE Foundation (Science for Health and Education), is convinced that a change in the population's lifestyle is the only way to avoid the spread of cardiovascular diseases, which are a real epidemic and the main cause of death in the world.
Factores tales como la obesidad, la adicción al alcohol, el tabaquismo y otras drogas se han convertido en los principales factores de riesgo de la enfermedad cardiovascular y provocan que año tras año aumente considerablemente el número de personas que la padecen.
Faced with this evidence and based on the experience gained over his career, Dr. Fuster promoted the creation of SHE in 2009, a non-profit foundation that, focused on basic and clinical research (Science), is aimed at promoting healthy habits (Health) through communication and Education of the population. With this purpose, the SHE Foundation devotes its efforts to creating a frame of reference for what an education in health, stressing the acquisition of healthy habits from childhood, means and involves, to promote a world in which children, young people and adults have the ability to act positively regarding their health. Because if society reduces risks, the impact of cardiovascular diseases will be also reduced.
Cardiovascular diseases are the leading cause of death in the world.
– The main cardiovascular risk factor for both adults and children is obesity and its associated factors, such as diabetes and high blood pressure, which stem from an inadequate diet and low levels of physical activity.
– Addictions to alcohol, smoking and other drugs are also important risk factors for cardiovascular disease. The proliferation of these unsatisfactory habits among the general population increases year after year the number of cardiovascular diseases.
– Longer life expectancy, due to more advanced medicine and new technologies, is causing an unsustainable social and economic burden on our society.
Experts agree that the only way to avoid the spread of these diseases is a change in the lifestyle of the general public and awareness-raising of the need to promote healthy habits.
The challenge is how to move on from treating the disease towards preventive health care.
The Resilient Heart
This film explores the history of cardiovascular disease, it's evolution into a global epidemic and how research, global health initiatives and policy are affecting positive outcomes in populations worldwide. The film tells this story through Dr. Fuster's day to day work.
The audience will experience first-hand the innovative world of medicine and the difficult challenges of implementing global health on a local level. The filming crew has been traveling for a year with Dr. Fuster as he visited projects and programs with partners in Colombia, Spain, Kenya, Grenada, and throughout the United States. Along the way the public will experience firsthand the impact one doctor can have throughout the world when his mission is to save lives through research based cardiovascular education and how he gently inspires and mentors others to do the same.
The Resilient Heart explores scientific contributions that range from basic science to translational research that improves clinical and surgical care efforts to promote lifestyles that prevent or slow down heart disease. Ultimately, it showcases how the intersection of science, medicine, research and compassion brings about important changes that are replicable by physicians and patients throughout the world.
In recent years, Dr. Fuster has published several books aimed at different audiences that provide advice on how to maintain a healthy lifestyle. The latest of these, La ciencia de la larga vida (Long Life Science) discovers the secrets of longevity and how we ought to act, to age active physical, intellectual and emotionally. It's the art of living more, but overall, living better.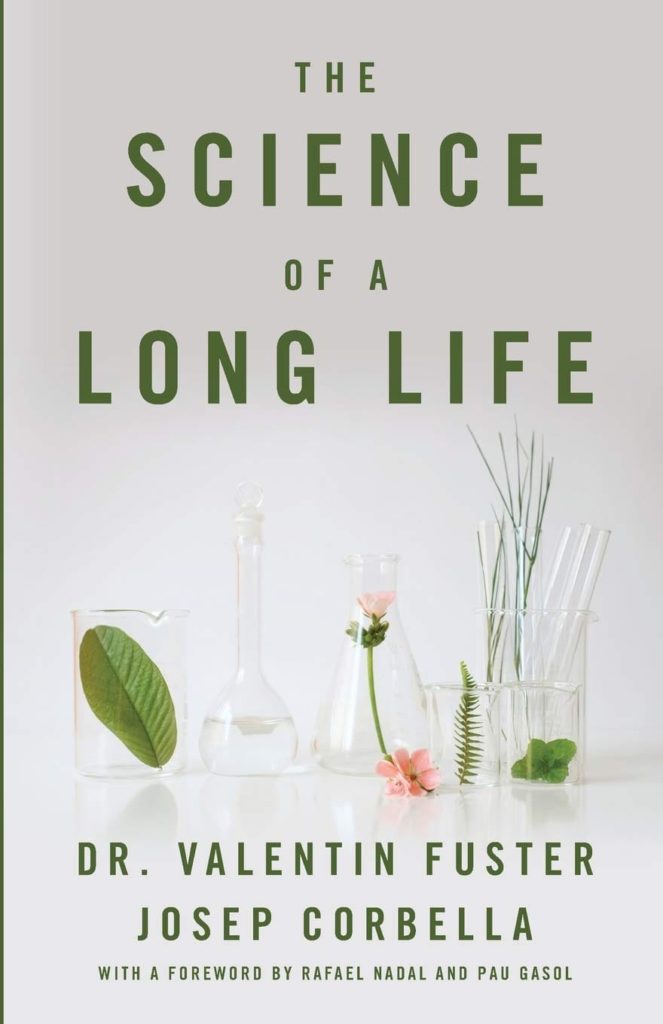 Age is only a number. Whilst at 80 some people still climb mountains, others are incabable of walking up a slope after 40. In Greece, Ikaria islanders live 10 years more in average than the Greek continential population. Similary in Okinawa population celebrates 100 year birthdays three times more frequently than the population in the rest of Japan. Aging and turning years are two different things and although we all celebrate our birthday with the same yearly cadence, we don't age the same way. In spite of being a world celebrity and an eminence in global cardiology, Dr. Valentín Fuster cannot slow down our chronological aging rythm. What he can do, and this book is a good proof of it, is to slow down, maybe even make a break, to our aging process, by incorporating in our lives exercices, routines and physical and mental activities that delay from the most superficial signs of age – like skin wrinkles for instance – to deeper celular and neuronal evolution.