It is more than obvious to us: we should eat fruit every day, at least two portions.
There is a wide variety of sweet and juicy fruit available throughout the year. What is more, its vitamins and antioxidants are indispensable in protecting us from colds in winter and the sun's rays in summer, not forgetting that the water the fruit contains hydrates us. With so many benefits, we should take every advantage fruit has to offer us.
Start the day with fruit.
It is often the case that a lot of people do not feel hungry when they get up, especially after a hot and sleepless night. However, good physical and intellectual performance depends to a large extent on whether we have had  a good breakfast, which is why our advice is to give yourself a good start to the day with a good helping of seasonal fruit.
Today we have five suggestions as to how you can make fresh fruit a part of your breakfast:
A fruit shake with yoghurt and seeds: choose a fruit you like most and put it in the blender, then add yoghurt or kefir and stir carefully – there should not be any liquid left – and then add the seeds at the end. If you use sweet, ripe fruit, such as banana, you will not need to add any sugar.
The trick: you can use fruit that is past its best by putting it in the freezer, you will get a much more refreshing shake. 
Juices and smoothies with cereals: these are a perfect way to get the appetite going. The best is a freshly squeezed juice or smoothie using fruit which does not have very firm flesh. Have the juice or smoothie with a bowl of whole grain cereal such as oats, seeds or nuts.
The trick: to get more juice out of the fruit, you can peel it and blend it with ice cubes, a spoonful of sugar and a little water. It will go much further.
Fresh fruit salad to take away: you can make water melon or melon balls, slices of pear or apple, fresh or dried grapes, mint leaves, etc. To complete the breakfast you can take a sandwich of ham or cheese or some cakes of toasted rice or puffed corn.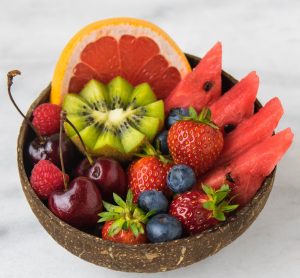 The trick: keep the fruit fresh and in perfect condition by putting it in a small Tupperware container inside a bigger one filled with ice. Be careful when you open it! 
Fruit brochettes with a surprise. This is a good option for the weekend. You will need to peel the fruit and remove any pips and then cut the fruit into pieces of the same size. Putting the fruit on the skewers is something the children love doing. Complete the breakfast with a glass of milk or yoghurt and some toast.
The trick: the brochette will be even more irresistible if it is sprinkled with poppy or chia seeds, or with a little grated dark chocolate or cocoa powder on it. 
A sandwich of fruit and dairy products: the combination of bread with fruit and cheese is delicious and complete. A savoury example: toasted spelt bread spread with avocado, ripe tomato, olive oil and shavings of Parmesan cheese. And a sweet one: sliced French stick spread with the flesh of a fresh ripe fig and soft cheese.
The trick: you can add a little oregano to the savoury option and a little honey to the sweet one to give them that special touch.